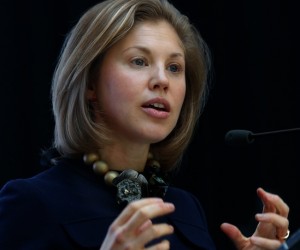 About the Author
Hanne Melin
Policy Strategy Counsel & Head, eBay Inc. Public Policy Lab EMEA

Monday 7th April 2014, Most people would think of a trade agreement as something distant, which does not really touch their lives and is there for the big multinationals.  They are probably right.  But it does not have to be the case. The Internet and digital services are changing the nature of trade by empowering individuals and small businesses to transact with each other anywhere in the world. It is time for trade agreements to follow suit. The negotiations between the EU and the US for a Transatlantic Trade and Investment Partnership (TTIP) present the perfect opportunity for crafting the very first trade agreement for people.
So far, trade agreements have focused on the type of exporting and importing carried out by large corporations – not surprisingly as international trade has primarily been the privilege of those corporations.  Individuals, small businesses and entrepreneurs have not actively participated in international trade. Of course, they have benefited immensely from open and free trade flows, e.g. in terms of increased domestic competition or by linking into the supply chains of larger corporations. But they have not participated directly and benefited as "trade actors" in their own right.
This is now changing. Small businesses with international aspirations can build international operations on their own terms and without investing in local establishments. At the same time, individuals can complement local choice with global offerings.
A recent report by Nielsen, prepared for PayPal, estimated that 15.9 million individuals in the UK made cross-border purchases of total £8.5 billion in 2013. 70% of those purchases were made from the US and dominated by fashion, home electronics and computer hardware. For the 34.1 million US consumers who purchase cross-border, the UK is the number one destination. This is mirrored by research by Sidley Austin LLP based showing that 96% of firms using the eBay marketplace from the UK sell internationally. While those firms reach on average 39 different markets, the US is the largest destination. According to a 2014 report by Deloitte, prepared for eBay, UK cross-border online exporting is estimated to be worth £3.8 billion in 2013, and projected to grow by 26% year on year compared to total retail export growth at 9%.
We are at the beginning of a paradigm shift where international trade goes from being the privilege of a few corporations and countries to an activity open also to individuals and remote locations. However, research by the economists Andreas Lendle and Pierre-Louis Vezina shows that technology-enabled trade does not benefit from existing trade agreements to the extent traditional trade does. But it does not have to be like that.
The TTIP negotiations offer a unique opportunity to create trade policy that cater also to these new trade patterns by addressing the issues consumers, entrepreneurs and small businesses face in the context of international trade.
For example, key barriers that impede consumers from purchasing across borders include cost, time, reliability and tracking of delivery; customs and tax policies; and their rights including ease of return.  Other issues that are important for making a cross-border purchase include product warranties, trust in the seller (which could come in the form of feedback from previous buyers), and guarantees from a third party would something go wrong with the transaction.
The barriers are very similar from a small business perspective. The results of our surveys reflect those of European Commission studies with key concerns being transportation and delivery as well as customs formalities and administration. An additional concern is knowledge of and compliance with differing consumer protection legislation.
With the aim of addressing those issues and barriers, the TTIP could:
Break new ground on customs relief thresholds by introducing a standard threshold of €800 minimum, index-linked, and regardless of the country of origin.
Support cross-border delivery services through harmonised standards and formats; tracking and data interoperability; and partnerships between commercial couriers and national postal operators.
Become a platform for developing trusted trader schemes adapted to micro and small firms, treating the different exporting profile of and tools used by technology-enabled businesses as strengths and not weaknesses.
Provide for transatlantic consumer rights by applying the idea behind the proposed Common European Sales Law (i.e. simplifying cross-border life of firms and consumers through an optional and non-national law) to transatlantic trade.
Support omnichannel trade by addressing mobile roaming across the Atlantic: travelling consumers should be able to use their smartphones effectively so that retailers can engage with visiting consumers effectively.
Facilitate transatlantic trade without harmonising EU and US legislation by looking to:
Alternative instruments, such of the Common European Sales Lab
Optional formats, such as the proposed Common EU Standard Value Added Tax (VAT) Return
Mechanisms, such as the eID voluntary notification scheme
One-stop-shop solutions covering online dispute resolution and VAT between the EU and the US
TTIP could become a pioneering trade agreement: it could resonate with citizens by addressing the issues they feel when selling and buying across borders as entrepreneurs, small businesses and consumers. This would make TTIP an instrument for democratizing trade.