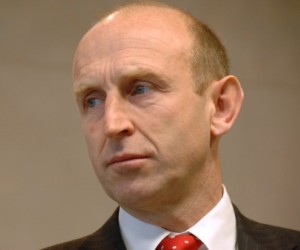 About the Author
John Healey MP
Chair, APPG on EU-US Trade & Investment

Friday 11th April,  As voters in all 28 EU countries gear up to elect a new European Parliament next month, and Member States then appoint new Commissioners to take over in October, some see a period in which the political push behind the TTIP talks could flag. This risk is reinforced by the mid-term Congressional elections in November now starting to dominate domestic political attention in the US.
However, we discussed this concern on our recent APPG visit to Brussels and those closest to the negotiations were most confident that there would be little loss of momentum in the negotiations during 2014.
The chair of the European Parliament's trade committee said the EU negotiating team had instructions not to slacken the pace during the coming period, while the EU chief negotiator mapped out the detailed work planned sector-by-sector and with regulators. It was also clear that the negotiators look to businesses on both sides of the Atlantic in leading industrial sectors to help define the potential gains and maintain momentum to the talks.
One stand-out example of where work currently underway is predicted to bring significant benefits is the auto sector, as we heard in Westminster at a recent open meeting that our All-Party Parliamentary Group on EU-US Trade & Investment staged. We brought the head of the UK trade body together on a panel with a senior trade union leader in the industry and one of the directors at Ford. This event gave Parliamentarians in all parties from the Commons and Lords, as well as interest groups that follow TTIP developments, the chance to discuss the tangible and specific benefits that British consumers, workers and companies could gain if a far-reaching EU-US agreement can be reached on tariff and non-tariff trade costs in the auto industry. A link to a brief on the discussion is here.
The US is a critical market for the UK-based car industry. 80% of cars made in Britain are exported, with almost 50,000 going to the US every year. Demands that manufacturers must test their windshield wipers or headlights several times before they can be sold, when safety standards are comparable, add extra and unnecessary costs to the industry and, of course, to motorists. According to Ford, regulatory measures inflate the price of getting an EU-made car into the US market by 26%. Such extra costs are an obstacle in particular to smaller specialist producers trying to expand their markets. All three panellists agreed that the TTIP goal is to remove tariff barriers and to secure mutual recognition of standards with equivalent results – not harmonisation.
The APPG plans to examine the potential impact of TTIP on other sectors before the summer parliamentary recess, so we are setting up a series of similar panel meetings on chemicals, textiles, pharmaceuticals and agriculture, food and drink.
It is the views of consumers, unions and business on specific potential benefits from TTIP that best broaden debate about how Britain could gain big-time from a comprehensive EU-US trade agreement.