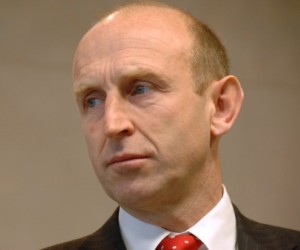 About the Author
John Healey MP
Chair of All-Party Parliamentary Group on EU-US Trade & Investment
6th November 2013, After a brief delay for the US government shutdown, negotiations resume next week for the second round of talks on a trade and investment deal between the EU and US. The transatlantic trade and investment partnership (TTIP) could be the biggest trade deal ever, and has the potential to boost output, jobs and wages in the countries involved.
It could also provide a new blueprint for how to conduct trade deals in the future: proving that trade negotiations can result in a comprehensive agreement, setting standards for others to use and bringing tangible economic benefits, but without sacrificing hard-won safeguards and domestic sovereignty over vital public policy decisions.
But advocates must not assume that the gains will be automatic, or that a fair and comprehensive deal will be reached at all. The benefits are not yet certain, and the fears that are starting to emerge about some aspects of TTIP may gather force rather than fall away as talks progress.
To win public support and build pressure for an ambitious deal, advocates must step up and start making the case for TTIP. And settle understandable concerns about aspects in the early negotiations, such as systems for settling investor disputes.
This means the UK government, who despite their declared belief in a new European settlement founded on strong international trading relationships, have been largely silent on TTIP. It also means those who may benefit from a successful deal – trade unions, consumer groups and businesses – all making the case, strongly and in public. In this respect, BAB has been showing the way to other employer bodies, providing a platform for discussion of TTIP in a way that very few organisations on this side of the Atlantic are yet doing.
I also believe that UK parliamentarians must play a leading part. Earlier this year, I set up the All-Party Parliamentary Group on EU-US trade & investment. The aims of the Group are to provide a focus for UK cross-party support for a comprehensive agreement; to contribute to better public understanding of the potential benefits; and to strengthen the scrutiny that parliament can exercise over the government's actions to secure a successful deal.
Members of the APPG are not only active in Parliament, but also promoting a wider debate, for example through our participation in local road-show events arranged by BAB.
Broad support and legitimacy for any EU-US deal will only be won if those who support an agreement start making a louder case for it. With negotiations starting to gather pace, it's time for advocates to find their voice.