For U.S. companies looking to expand their global footprint, the U.K. may offer the key. As one of the leading business locations in the world, the U.K. offers a rich and diverse market with world-class industries and a business friendly environment.
The U.K. offers an attractive location for businesses with easy access to customers, product innovators, suppliers and partners. The U.K. maintains this leading position by creating a range of highly attractive conditions for business and investment.
The U.K. Government's Plan for Growth drives coordinated action that seeks to create the most competitive tax system in the G20 and make the U.K. the best place in Europe to start, finance and grow a business. The legal system supports and protects business interests, and cuts to bureaucracy are reducing burdens on business. The U.K.'s proximity to Europe makes it a natural choice to locate for investors coming from outside the European Union, and it is home to London, the world's leading financial center. (Source: Global Financial Centres Index)
UK TRADE & INVESTMENT | U.S. NETWORK MAP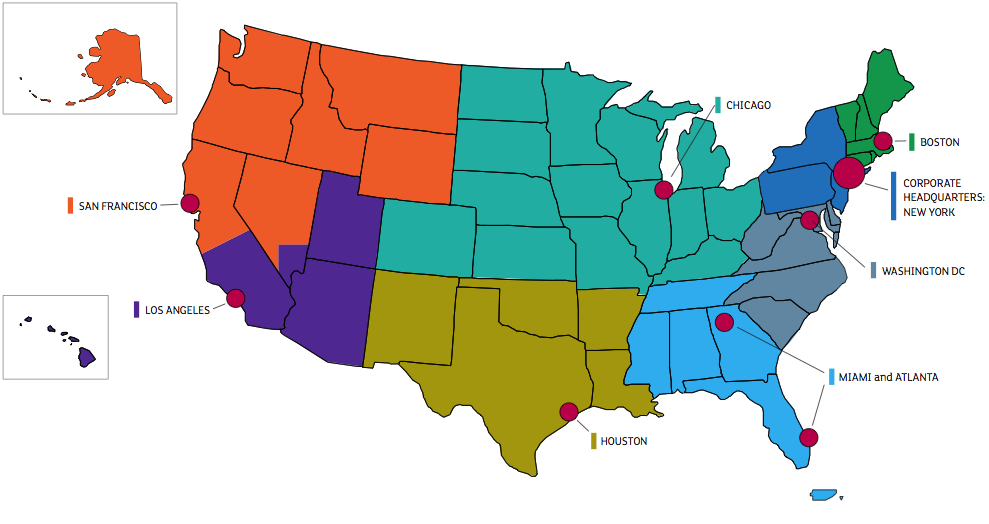 HOW TO ACCESS THIS WORLD OF OPPORTUNITY?
The U.K Government provides a dedicated guide and adviser – UK Trade & Investment (UKTI). Think of UKTI as the official consultant for companies looking to establish or expand their presence in the U.K.
Our role is to get you the information you need to position your company for success. As well as providing all the assistance you will need to make your transition as seamless as possible. Our industry specialists are here to help you build the crucial relationships you need to establish or grow your business.
In short, UKTI is a fast- track solution for your global exploration:
Access market opportunities:

We help U.S. companies quantify and assess market opportunities in the U.K. and Europe. Our experts can provide bespoke in-depth tailored factual reports, including market entry support, research and development collaborations and cost analysis

Make the right introductions:

Whether it is helping you establish relationships with industry and professional services leaders, access Government or uncover R&D opportunities, we have the high-level contacts vital to your business

Get up and running in the U.K.:

The logistics and legalities of opening an office can be daunting. We can help you find what you need, where your need it, and meet tax laws and regulations

Find the best market location:

The appropriate resources, marketing and talent for a U.K. business are not always in London. Our regional experts can help analyze your opportunity and give practical help with site selection through visits to locations and premises

Ongoing Government support:

Our teams in the U.S. and U.K. will continue to support your business once established in the U.K., providing assistance on expansion, including exporting from the U.K. and representing your interests in government

Hire the right talent:

Finding the right people locally can be as involved as relocating your existing staff. We can help identify the talent you need and advise you on the U.K. immigration system, how it works and the different visa categories

Tailored assistance for entrepreneurs:

We assist entrepreneurs through a network of mentors with the insight and experience to help make a commercial success of early-stage companies
FOR U.K. COMPANIES LOOKING TO EXPLORE THE U.S.
U.K. companies have a strong track record of success in the U.S. – it is our largest single market and the leading destination for British overseas investment. Given its sheer size and diversity, the U.S. often acts as a series of smaller markets, offering huge commercial opportunities to savvy exporters.
For companies looking to take advantage, UKTI can help you identify and seize your U.S. opportunity. We know the local business environment and offer a seamless one-stop service to guide you through your export journey, from carrying out subsidized research to connecting you to the right people.
From our nine key locations across the country, the UKTI USA team is dedicated to providing U.K. businesses with advice and support to help you achieve your export goals, and offers the following services:
OVERSEAS MARKET INTRODUCTION SERVICE (OMIS)
UKTI's exclusive in-market consultancy service for U.K. companies, provides a wealth of practical support to guide you through your U.S. journey, from pre-visit research to in-market expansion. Subsidised by the U.K. government, our tailored service can help you access market and industry information, identify potential contacts or assist in planning an event. Helping your business to grow further, faster!
PRE-VISIT RESEARCH AND REPORTS
Accessing accurate and up-to-date market information is crucial to the success of your product or service in the U.S. UKTI offers a range of specialist research services for you to commission.
ADDITIONAL SERVICES
Once established, UKTI can also help you grow your presence in the USA. To find out how you can commission our teams and for more information contact: Researchusa@mobile.ukti.gov.uk
UK TRADE & INVESTMENT HAS NINE LOCATIONS ACROSS THE U.S.
UKTI has trade & investment teams located at its New York headquarters, the British Embassy in Washington D.C. and 7 other British Consulates (General) around the United States
Atlanta
British Consulate-General
Georgia Pacific Center, Suite 3400
133 Peachtree Street, NE
Atlanta, GA 30303
Contact: Rebecca Mowat
Tel: +1 404-954-7700
Boston
British Consulate-General
One Broadway
Cambridge, MA 02142
Contact: Kirsten Chambers
Tel: +1 617-245-4500
Chicago
British Consulate General
625 N Michigan Avenue, Suite 2200
Chicago, IL 60611
Contact: Rob McNeill
Tel: +1 312-970-3800
Houston
British Consulate-General
Wells Fargo Plaza
1000 Louisiana, Suite 1900
Houston, TX 77002
Contact: Leah Mayo
Tel: +1 713-659-6270
Los Angeles
British Consulate-General
2029 Century Park East, Suite 1350
Los Angeles, CA 90067
Contact: Carlo Cavagna
Tel: +1 310-789-0031
Miami
British Consulate-General
1001 Brickell Bay Drive
Miami, FL 33131
Contact: Rebecca Mowat
Tel: +1 305-400-6400
New York
British Consulate-General
845 Third Avenue
New York, NY 10022
Contact: Fiona MacLeod
Tel: +1 212-745-0200
San Francisco
British Consulate-General
1 Sansome Street, Suite 850
San Francisco, CA 94104
Contact: Jaclyn Mason
Tel: +1 415-617-1300
Washington D.C.
British Embassy
3100 Massachusetts Avenue NW
Washington DC 20008
Contact: Melinda Goforth
Tel: +1 202-588-6500
Source: http://www.ukti.gov.uk
Further Information
To find out more about how UKTI specialists can help you expand your business and for additional information, please visit http://www.ukti.gov.uk