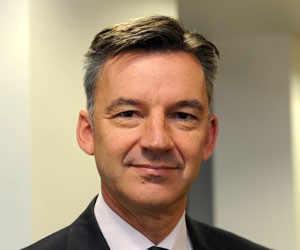 About the Author
Mike Hawes
Chief Executive, Society of Motor Manufacturers and Traders (SMMT)

The British automotive industry in 2015 finds itself in a very strong place. Vehicle production is increasing, productivity is on the up, and more people are being employed. Significant investment is being plowed into vehicle and engine manufacturing, with three British manufacturers – Honda, Jaguar Land Rover, and the London Taxi Company – announcing a cumulative $1.5bn worth of capital into U.K. vehicle production in the space of a single week in March 2015.
Today in the U.K., a vehicle rolls off a production line every 20 seconds, and world-class engineering expertise is creating global demand. In 2014, 80% of the 1.5 million automobiles made here were exported. The U.K. also leads the way in innovation, with eight of the world's Formula 1 teams based here, and 13 cutting-edge R&D centers putting the country at the forefront of technological development.
The U.K.'s resurgent industry is bringing about new and exciting opportunities for the U.K. automotive supply chain – a fundamental part of our industry that comprises more than 2,000 companies employing 78,000 people, and generating an annual $6.5bn in added value.
The U.K. supply chain offers attractive investment opportunities. Eighteen of the top 20 global automotive suppliers have a U.K. base. Today, more than a third of all the parts in U.K.-built automobiles are made in Britain, and spending by British vehicle makers on these parts grew last year by a staggering 19% over 2013. And there is yet more potential, with $6bn worth of unfulfi lled Tier-1 supply opportunities existing here, right now.
One example of the recent upturn in local supply for U.K. vehicle manufacturing is the Luton-built Vauxhall Vivaro van. The latest model, which started production in 2014, contains more than twice the number of British-sourced components at 40%, than its predecessor's 16%. This means an extra $900 million will be spent with British suppliers, allowing local companies to expand and, in some cases, saving whole factories.
The U.K. economy provides a solid platform for industry, with domestic sales at record levels and a highly skilled and flexible labor force. Sectoral productivity is outstripping the rest of the economy, improving some 6% per year. The government is also engaged, with recent funding announcements including $30 million to help supply chain companies improve skills, a $36 million tooling loan fund, and $180 million for connected and autonomous vehicle development.
Government also supports automotive sector growth through industrial partnerships such as the Automotive Council, which has already delivered tremendously successful initiatives such as the Automotive Investment Organisation (AIO). Set up in June 2013 as part of UK Trade & Investment, the AIO's raison-d'être is to attract inward investment into the automotive sector. In its first year alone, it generated $670 million worth of funding for 80 projects, securing 5,600 supply chain jobs.
2016 will see the start of another opportunity for the U.K. automotive supply base, with the debut of the internationally renowned Automechanika trade show in Birmingham. Bringing together hundreds of automotive supply and aftermarket companies with national and international buyers, the show will be the perfect platform for businesses to strike new deals and expand their footprint in the U.K.
A successful U.K. automotive industry needs a strong domestic supply chain. With British suppliers capable of manufacturing 80% of an automobile's content, they are clearly in a great position to capitalize on the many growth opportunities in the months and years ahead.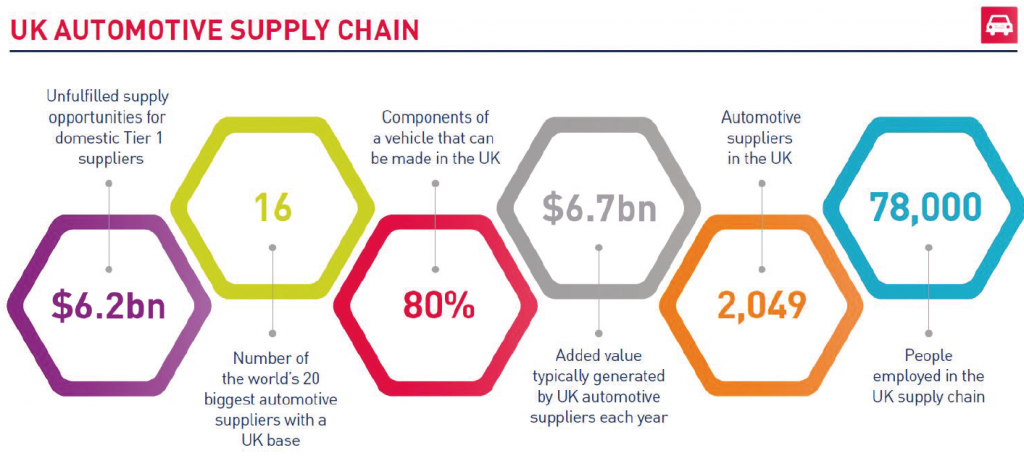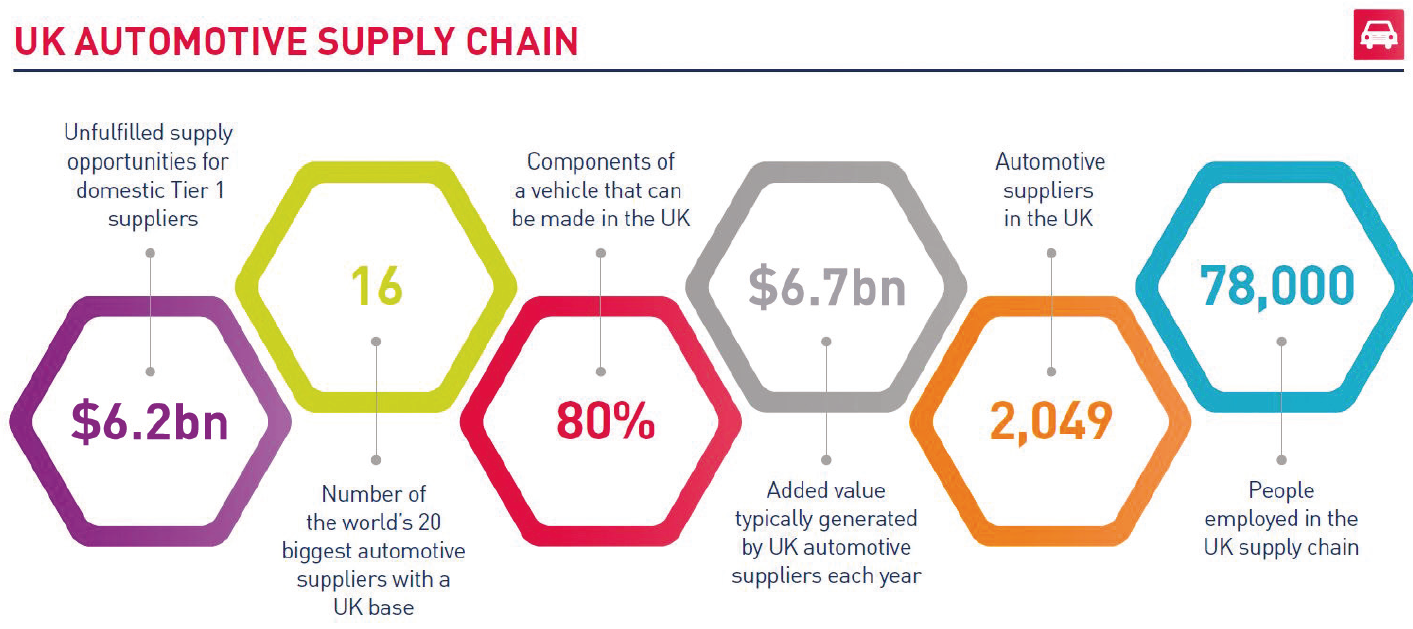 Further Information
For further information, visit
Website: www.smmt.co.uk
The Society of Motor Manufacturers and Traders (SMMT) is one of the largest and most influential trade associations in the U.K. It supports the interests of the U.K. automotive industry at home and abroad, promoting a united position to government, stakeholders and the media.