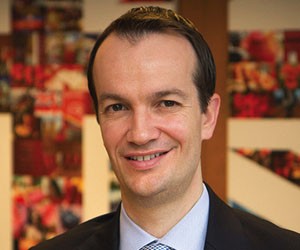 About the Author
British Consul General in New York and Director General UKTI USA
"Special" and "Relationship" are words we love to use when talking about the ties between the U.K. and the U.S. We're politically close, of course, working together around the world to promote and defend our shared values. But just as important is our economic relationship. Businesses on both sides of the Atlantic are essential to our goal of shared long-term prosperity, and we look forward to working with BritishAmerican Business in the year ahead as we work towards it.
The U.K. government aims to export $1.5 trillion in goods and services by 2020, and UK Trade & Investment (UKTI) is at the center of our efforts. We can only do this if government works closely with organizations like BritishAmerican Business and its members. A bold, ambitious and collaborative approach will be hugely worthwhile. Companies that export are more profitable, and 86% of UKTI's clients said exporting has led to growth that would otherwise have been impossible. Last year, we helped around 2,500 U.K. companies enter the U.S. market. With our help, British businesses – first-timers and experienced traders alike – secured around $1bn in business. As I travel to all four corners of the U.S., I see first-hand all the exciting opportunities that exist for U.K. companies.
I also meet many American companies who see in the U.K. their ideal destination for international expansion, and we're looking forward to welcoming even more of them to our shores this year. The U.K. remains the #1 choice in Europe for American businesses. The U.S. is also our biggest single investor, contributing some $24bn of income in 2013.
What do we offer? Our 20% corporation tax rate is the lowest of any major economy. We are a nation of some 64 million consumers, enjoying stable government and easy access to the wider European economy. Our visa system has been transformed to welcome overseas entrepreneurs. We offer financial support to postgraduates, and have put $214 million towards world-class research into infrastructure and the cities of the future. And we want to help you. In 2014/15, my team in the U.S. secured over 400 investment projects, translating into $10.7bn of capital expenditure and over 32,000 jobs.
The importance of our friendship could be measured in VIP visits to the U.S. It was my great honor to welcome Their Royal Highnesses The Duke and Duchess of Cambridge on their first official visit to the East Coast in December, and to introduce them to a range of U.S. and U.K. business leaders. At an event for the creative industries, which contribute $108bn to the U.K. economy, I was delighted to hear our guests praising the U.K.'s generous suite of creative tax credits as well as the home-grown skills, talent and innovation that contribute to the U.K.'s success. The Duke met members of the New York tech community, too, including winners of our GREAT Tech Awards, which are now entering their third year and expanding to include New England. Meanwhile, the Prime Minister's visit to Washington DC in January, alongside a number of British cyber-security companies, helped to enhance the U.K.'s global reputation as a leader in the cyber-security export market.
We also help U.S. companies in Europe. At the Milan Expo in May, my colleagues worked hard to ensure U.S. companies understood what the U.K. has to offer. And the U.K. pavilion, designed by Wolfgang Buttress and inspired by the honey bee, certainly created the expected buzz… The agri-food and drink sector is worth over $150bn to the U.K., and when British beef and lamb re-enter the U.S. market later this year, we look forward to growing it further.
The E.U.-U.S. free trade agreement currently in negotiation will benefit all these sectors and more, and remains a top priority for us in 2015. It has the potential to be the all-time biggest bilateral trade agreement, giving U.K. businesses access to over 300 million consumers and offering American businesses a gateway to 500 million European consumers. The agreement will be particularly beneficial to small businesses that might otherwise struggle to deal with environmental and safety controls.
So whatever your business, if you're American and looking to do more in Britain or British and looking to do more in the States, UKTI can help you tap those market opportunities and meet all the right people.
We're as excited as ever to be working with BritishAmerican Business and its members to achieve success for all.