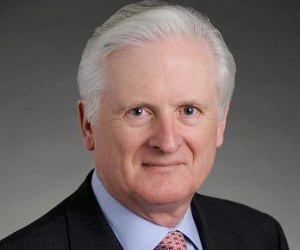 About the Author
Chair, BritishAmerican Business
Senior Advisor, AIG

Welcome to British American Trade & Investment 2015/16
I am delighted to welcome you to the 15th anniversary edition of British American Trade & Investment, our guide for those U.S. companies looking to expand their operations with the United Kingdom, either through inward investment, or through the expansion of their trade links.
Throughout the 15 years of British American Trade & Investment, the United Kingdom has continued to show itself to be the ideal destination for American companies seeking a primary base for their European operations. Our shared heritage and long established commercial links have made us ideal business partners, with companies, universities, government, and private organizations on both sides of the Atlantic, striving towards dynamic and innovative advancement within our particular fields.
From its formation in 2000 through the merger of the American Chamber of Commerce (UK) and the British American Chamber of Commerce (New York), BritishAmerican Business has been led through the tireless efforts of our CEO, Richard Fursland. Richard has now retired and has been succeeded by BAB's London Managing Director, Jeffries Briginshaw. Jeffries, since his appointment as MD in 2012, has moved BAB London towards a far more "sleeves rolled up" approach to Transatlantic business.
This has involved us agreeing to serve as secretariat to the U.K. All Party Parliamentary Group on E.U.-U.S. Trade & Investment and, since 2014, holding a series of road shows promoting the benefits of a successfully negotiated Transatlantic Trade & Investment Partnership.
To complement this program, last year we launched a new website (tradeinvest.babinc.org). This has three portals – Investing in the U.K., Investing in the U.S., and TTIP news and views. We hope that you will find it a useful tool and would be pleased to hear from you via the site's contact form.
Over the following pages you will see a number of statistics verifying the strength of business flowing from the U.S. to the U.K., such as the number of U.S. companies exporting to the U.K. (42,000) and the number of U.S. firms with operations over here (7,500). It is not always so easy, however, for some smaller companies amongst BAB's membership to break in or expand within this market. We wish to engage and help such companies in any way we can, not only, perhaps, through direct advice, but through lobbying government in any worthwhile way that may facilitate Transatlantic business. We work alongside partners representing all key business stakeholders, including major trade associations and other business interest groups.
Our British American Trade & Investment guide to investing in the U.K. provides an introduction to the wealth of knowledge available through our members and business partners. It includes contributions from our members, U.K. Government ministers, the U.S. Department of Commerce, and from leading trade bodies to include such subjects as aerospace, automotive, cyber security, biotech, and U.K. enterprise zones.
We have aimed to reflect and support our two countries' truly exceptional partnership. We hope you will find this publication a useful resource for your own business and, if you don't know us already, a helpful introduction to our organization.
Further Information
New York
52 Vanderbilt Avenue, 20th Floor, New York NY 10017
Tel: +1 212-661-4060 | Email: nyinfo@babinc.org | Twitter: @BABNewYork | Website: www.babinc.org
London
12 Phillimore Walk, London, W8 7RX
Tel: +44 (0) 207 290 9888 | Email: ukinfo@babinc.org | Twitter: BABLondon | Website: www.babinc.org