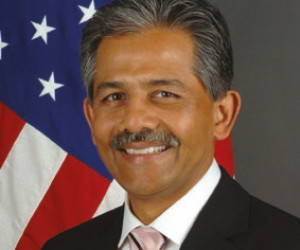 About the Author
Vinai Thummalapally
Executive Director, SelectUSA, U.S. Department of Commerce

The investment relationship between the United States and the United Kingdom continues to be an integral part of our uniquely strong partnership. As of 2014, there was nearly $588 billion in total investment stock from US companies in the UK and almost $466 billion in stock from the UK in the United States – more than any other country. British businesses employ 962,900 Americans, while also helping to drive innovation through roughly $6.6 billion in annual R&D spending in the United States.
Businesses from the UK and all over the world have recognised the immense opportunity offered by the US market. This became even clearer in 2015 as US economic growth continued. These sentiments were echoed by global executives in A.T. Kearney's latest Foreign Direct Investment (FDI) Confidence Index, which awarded the United States the top ranking for the third straight year.
2015 was also an important year of growth for SelectUSA, as we strengthened our efforts to assist British businesses. In March, President Barack Obama and six Cabinet Secretaries welcomed investors from more than 70 international markets to the SelectUSA Investment Summit. The British delegation was personally led by US Ambassador Matthew Barzun. The event featured high-level speakers, matchmaking with more than 1,700 business meetings, and an exhibit hall showcasing investment opportunities from every corner of the United States. We hope you will join us for the 2016 SelectUSA Investment Summit, scheduled for 19-21 June in Washington, DC.
SelectUSA is also active on the ground in the UK, so follow @SelectUSA and @SelectUSATech on Twitter to catch up on our latest events. Together with the team at the U.S. Embassy in London, we can help you find the information you need to make decisions about investing, connect you to the right people at the local level and navigate the federal regulatory system.
Thank you for your interest. If you are considering starting or expanding operations in the United States, this Guide is a great place to start. I commend our friends at BritishAmerican Business, and I look forward to continuing our work to support the vibrant economic partnership between the United States and the United Kingdom.
Sincerely,
Vinai Thummalapally
Executive Director, SelectUSA
U.S. Department of Commerce