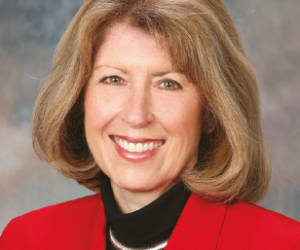 About the Author
Eileen Walker
Chief Executive, Association of University Research Parks

Lynn Allen-Hoffmann, a professor of pathology at the University of Wisconsin-Madison, was working in her laboratory one day a few years ago when she made a serendipitous discovery – a line of skin cells that she had been manipulating did not, as expected, die under test conditions that should have killed them.
Examining this apparent mystery led Allen-Hoffmann to a signal discovery in biotechnology, the existence of a human keratinocyte cell line that, when cultured properly, produces living tissue that is nearly identical to human skin. In 2010, she founded a company called StrataTech to develop regenerative therapies to replace and heal  skin in situations such as severe burns or wounds, as well as treating ulcers that are slow to heal and similar applications. StrataGraft regenerative skin tissue has just passed the second phase of federally mandated clinical trials and is on a fast track to be released to the market within the next year or two.
"This development is incredibly promising, both economically and scientifically", says Aaron Olver, managing director of the University of Wisconsin-Madison Research Park. The park is home to StrataTech which, with some 60 employees, occupies a full floor of its main business incubator. It is one of thousands of constituent parts of the hundreds of university-related research parks, whose flagship organisation is the Association of University Research Parks.
As the National Research Council notes, "Research parks are seen increasingly around the world as a means to create dynamic clusters that accelerate economic growth and international competitiveness". They are also perfect illustrations of what has been dubbed the "triple helix", whereby government, industry and academia  combine to pool resources, funds and expertise to develop and commercialise important new products and technologies that might otherwise have been difficult for any single branch of that helix to produce.
The University of Wisconsin-Madison Research Park is a case in point. "The University itself", says Olver, "brings in more than $1 billion in research funds each year, and the R&D activity that generates far exceeds that of Harvard, MIT, Stanford and other more richly endowed institutions". This huge base of research provides an ample pool of talent from which to develop spinoff or start-up companies, of which the Research Park now houses more than 125, employing more than 3,800 people in well-paid jobs. The Research Park helps nurture such companies not just by providing infrastructure, support and a site from which to do business, but also by networking among researchers and funding sources, making critically important connections between inventors and investors.
The University of Wisconsin-Madison Research Park, which sponsors everything from cutting-edge biomedical research to a laboratory that makes new blends of soy sauce, is just one example of hundreds of facilities that advance innovation and the commercialisation of its results. Most are broad-based, though with areas of specialisation that reflect the strengths of the parent university, such as biomass energy at the Ohio Agricultural Research and Development Center or medical informatics at the Johns Hopkins University Science + Technology Park.
At the University of Arizona Tech Park, located on the outskirts of Tucson, the sun shines more than 300 days out of the year. That makes the University's leadership in solar energy a natural fi t, one that the Tech Park has fully taken advantage of with its Solar Zone. At more than 165 acres, it is the largest multi-technology solar evaluation facility in the United States, working to develop emerging technologies around solar and other renewable energy sources – a rapidly growing sector, of course, in economies around the world.
The Solar Zone's principal partner is the local electrical utility, Tucson Electric Power, which is involved in the facility in numerous ways. TEP has helped recruit numerous firms, from well-established ones such as IBM to start-ups such as Tucson Solar Cogeneration LLC. The Park's more than 95,000 photovoltaic panels generate 23 MW of electrical power, output that will notably increase as new technologies are brought online.
"It's a true public-private partnership", says Tech Parks Arizona associate vice president, Bruce Wright, "we define ourselves as interactive ground – a place where university, community, and industry come together to advance technology innovation and commercialisation. Our park provides all the infrastructure, facilities, amenities and programmes needed to help faculty members and companies large and small bring their products into the marketplace".
Wright notes that the Tech Park is actively recruiting mid-sized companies in partnership, bringing together investors and research groups into a well-articulated programme devoted to renewable energy. "If you're in the solar business", he says, "we can definitely help introduce your products and technologies to the North American market". That market is rapidly growing, with no end in immediate view, making this an optimal time for investment in renewables.
Florida Atlantic University sits in the endlessly sunny setting of South Florida, but there's more than energy research taking place in Boca Raton. Florida has a huge healthcare market – indeed, its governor is a onetime healthcare executive, and the state mirrors the United States as a whole with the health sector being its single largest industry. Florida also has a thriving medical research sector that has made advances in every corner of the industry. FAU's Research Park is a prime mover in this work, and at its heart lies Modernizing Medicine, Inc., a company that has witnessed remarkable growth since its inception five years ago.
Modernizing Medicine manufactures an iPad-based EMA (electronic medical assistant) that is adapted to various specialisations within the larger field of medicine – otolaryngology, dermatology, orthopaedic surgery, for example. While the overall software package provides quick assistance in medical coding and charting information, the requirements for which have increased markedly since the advent of the Affordable Care Act in 2010, the software for each discipline has specialised adaptations that have been written by practitioners of medicine and not by engineers. "The goal", says founder and president Daniel Cane, "was to improve the efficiency of doctors and help them improve outcomes". This 'by-physicians-for-physicians' quality – Cane's partner and first co-writer was his own dermatologist – has given Modernizing Medicine a decided advantage in a crowded field, and it has brought the company much attention on the part of business media outlets such as Forbes and Fast Company.
The birth of Modernizing Medicine came about in good measure because of an angel investment through Britain's Pentland Group, which has been expanding from its previous base in sports and outdoor recreation to embrace health-related technologies. "The Pentland Group saw the potential of our little Florida company", Cane says, "and they liked what they saw and the team we had assembled. I'm pleased to say that they have participated in every round of funding since".
A UK group, then, was the fi rst major funder of an American technology producer that could well emerge as an international leader in medical informatics in the coming years. That is by no means an uncommon partnership in the world of university research parks, where such alliances are regularly forged. Finding the right partner requires diligence and research on all sides, but the possibilities are endless. "My advice to anyone looking to invest in technology is to get your hands dirty", says Daniel Cane, "and go where the companies are". If you are interested in solar energy, in other words, then Arizona is the place to look. If meteorological forecasting engages your attention, then the University Research Campus at the University of Oklahoma beckons. If your company works in food manufacturing, a likely partner for research and development is the Joint Institute for Food Safety and Applied Nutrition at the University of Maryland Research Park.
University research parks stand at the centre of the triple helix, enabling effective, fruitful cooperation among private and public concerns that is of material benefit to local communities and their regions as well as to the larger national and international economy. University research parks create an environment that encourages  innovation and entrepreneurship, and economic growth then follows. That pattern of growth is widespread and constant in the university research park community, a thriving sector that now numbers about 160 facilities in the United States and Canada today.
University research parks are drivers of innovation. In our daily work, we at AURP take every opportunity to bring academicians, government workers, and private citizens into collaboration. We welcome your inquiries about taking part in these exciting, world-transforming ventures.